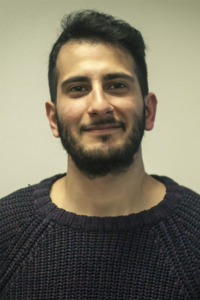 Information
"L. Salvatore" building – 3° floor – room 308
+39 080 596 3065
ti.ab1686154873ilop@1686154873oigga1686154873barac1686154873s.olo1686154873ap1686154873
Scopus Researcher Page
Curriculum Vitae (english)
Curriculum Vitae (italian)
Pubblicazioni
Paolo SCARABAGGIO
Assistant Professor
Paolo Scarabaggio received a Ph.D. in Electrical and Information Engineering from Politecnico di Bari, Italy, in 2022.
He is currently an assistant professor (RTDA) at the Decision and Control Laboratory of Politecnico di Bari. In 2019, he was a visiting student at the Delft Center for Systems and Control, Technical University of Delft, The Netherlands.
His research interests include modeling, optimization, game theory, and control of complex multi-agent systems, with application in energy distribution systems, and social networks. He is author of 20+ printed international publications. He is the recipient of the 2022 IEEE CSS Italy Best Young Author Journal Paper Award.
---
Pubblicazioni
2023
2022
2021
2020
2019
---