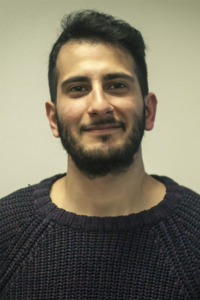 Informazioni
+39 080 596 3843
ti.ab1651259744ilop@1651259744oigga1651259744barac1651259744s.olo1651259744ap1651259744
Scopus Researcher Page
Curriculum Vitae (english)
Pubblicazioni
Paolo SCARABAGGIO
Dottorando
Paolo Scarabaggio received the B.Sc. degree in Mechanical Engineering and the M.Sc. degree in Management Engineering from Politecnico di Bari, Italy, in 2017, and 2019 respectively. In 2019, he visited the Technical University of Delft, The Netherlands.
He is currently working toward the Ph.D. degree in the Department of Electrical and Information Engineering of the same university under the supervision of Prof. Engr. Mariagrazia Dotoli.
His research interests include modeling, optimization, game theory, and control of complex multi-agent systems, with application in energy distribution systems, and social networks.
---
Pubblicazioni
2022
2021
2020
2019
---